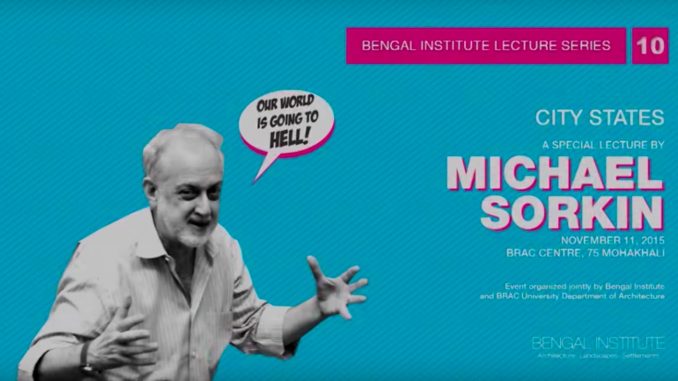 The tragic loss of Michael Sorkin, as both a dear friend and premier voice for urban design on the international architecture scene, is still a seemingly impossible idea for me to accept. At 87, I thought I would be long gone before this happened; so, I never anticipated experiencing the shock and despair of facing the reality. While I have still failed to adjust emotionally and psychologically, I will try to give some shape to my admiration for his ideas and depth of feelings for our friendship.
Michael's work in design criticism, theory, history, planning and the future of cityscape is so inclusive and visionary that he has become an indelible fixture in global thinking on these topics. He is one of those rare contributors to a profession, where his presence and the discipline become synonymous; where, for example, it becomes impossible to think about the condition of architecture and urbanism today, without including Michael's ideas as pivotal points of reference and beacons of wisdom. This power is the essence of his importance; but, also, the reason his absence becomes inconceivable.
While the endless fruits of his creativity will remain in world archives to nourish future generations, an enormous part of the communicative value of Michael's work was his participation in public dialogues. In this sense, he was like a great musical performer who made wonderful recordings; but the full measure of his talents was best experienced in concert format. Michael's combination of revolutionary thinker and consummate public speaker is, from my view, unmatched in architecture.
As friends, professional colleagues and career-long skeptics concerning all manifestations of design orthodoxy, Michael and I had a bottomless reservoir of art and design issues to debate during our thirty-or-more years of dialogue. In terms of primary emphasis, we were both committed to solutions for the public domain and how to best accommodate people interaction in the cityscape. I often used to comment, when introducing our appearances on symposia; 'Michael's focus took care of the larger issues in urban design and I followed up with solutions for the small stuff under people's feet.'
As our discussions unfolded, this was invariably the scenario. Michael would cover the master plans, civic strategies, economics and infrastructure and then I would insert ideas for the pedestrian amenities of walkways, seating, plazas, gardens and play spaces. Whereas I could hold my own in the presentation of visual material, Michael's verbal eloquence always stole the show. I recall so many lectures and conferences when I would find myself so enthralled with Michael's delivery that my own memory failed when it came my turn to speak. He was the ultimate 'impossible act to follow' on any podium.
Michael and I had that kind of nurturing friendship where we could meet in an explosion of discourse on some hot topic of the day, or just sit quietly at dinner and experience the reinforcing comfort of saying nothing. As a pinnacle of Michael's talents, I appreciated his acerbic wit and his capacity to skewer the pomposities of our profession and politics of the day. This trenchant humor was invariably on target; but always articulated in a way to inspire the opposition to re-think an issue . . . never to be cruel, disrespectful or dismissive.
It is especially ironic that Michael Sorkin – a major advocate of integrative cities and people interaction – has passed away during a time of global pandemic, when millions of urban dwellers have retreated into protective isolation. For this reason, I want to end my tribute with a quote on his work from my 2000 book on 'Green Architecture.'
"Michael Sorkin might appropriately be called a visionary with a heart. He has understood that, with the universal buzz about people living in cyberspace and communicating primarily through global wavelengths, this is already a reality and just another convenient set of tools that will soon be assimilated into the realm of routine. In this respect, computers are just like every other exotic technology that has nourished science fiction hyperbole and ended up as nostalgic curios in antique auctions. In designing for the future city, Sorkin has acknowledged that people are weary of looking at digital screens all day and sit-coms all night; so why on earth would they want their neighborhood to be another extension of virtual reality? The fact is that people need and value human interaction more than ever because of computer technology. In the Sorkin city, they walk, talk, sit on stoops, tend their gardens, and breath cleaner air. Preserving this desirable reality is the basic goal of sustainability and the primary urban design challenge of the future."
(From James Wines, Green Architetcture, Taschen, 2000)
MICHAEL SORKIN was born in 1948 in Washington, and died in New York on March 26th, 2020. Graduated from University of Chicago in (1970), earned a master of architecture from the (1974). He mainly dealt with the city, architecture, history, criticism, theory, sustainability and green dimension. He collaborated to many newspapers and magazines. His legacy refers also to his teaching in various universities, for instance as appointed Distinguished Professor of Architecture of the City University of New York. Authored many books.