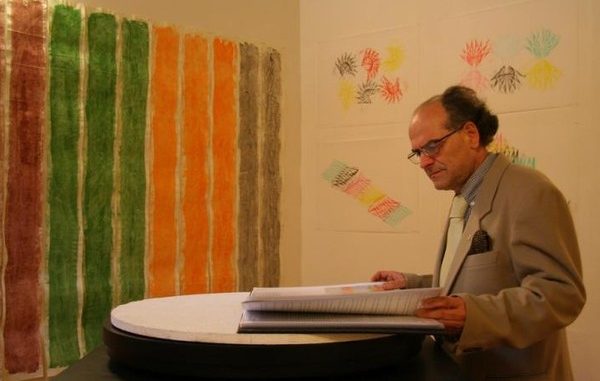 An old acquaintance, an old high consideration. His poetics has always been stable over long times but characterized by surprising variations on the theme. His interest is letting the paper speak, giving a language and a mandate to this material that the artist has privilegedfor decades and which in recent times has become differently refined with the use of watercolor.
The story of his paper-sign pattern is very long. The paper by itself is a signifier, and it would be a self-referential condition(even though in any case substantial), if Gubinelli did not intervene by adding to the natural sign of the paper his imaginative sign. A sign that I would like to say homophone, according to what happens in music: the note C sharpand Dflat have the same sound but belong to two different scales. The paper that Gubinelli chooses provides him with certain potential signs that the artist perceives and makes explicit through his way, precisely homophone, to affect it. His object-books are very fascinating, however. This especially happens when, decades ago, Gubinelli abandons the abstract geometric sign in favor of a lyrical-phenomenic one. Thus, along the narrative of chromatic shimmers and connotative signs, you can catch the "invisible beauty" of which Fernando Miglietta speaks in introducing a recent exhibition of the Marches-Tuscan artist at the Sassi Foundation in Matera. This initiative has just been preceded by a solo show in Milan, at Bocconi University, curator Elena Pontiggia. An intense and above all rigorous artistic curriculum, likely rigorous and tense is his research.
Gubinelli's basic c.v.
Born in the province of Macerata in 1945, he lives and works in Florence. Gratuated in Painting from the Institute of Art, he also studied as advertising graphic as well as architectural designer. Differentmastershaveadmiredhis work, suchasLucio Fontana Giovanni Michelucci, Bruno Munari, Ugo La Pietra, Agostino Bonalumi, Alberto Burri, Enrico Castellani, Piero Dorazio, Emilio Isgrò, Umberto Peschi, Edgardo Mannucci, Mario Nigro, Emilio Scanavino, Sol Lewitt, Giuseppe Uncini, Zoren.
In 2011 he exhibited at the 54th Venice Biennale in the Italian Pavilion on the advice of Tonino Guerra and Gubinelliincluded anunpublished manuscript by the poet in his installation on display.(installationconsisted of 28 cards of 102×72 cm).
Differentleadingcriticswroteabouthis work, for istanceGiulio Carlo Argan, Giovanni Maria Accame, Carmine, Benincasa, Luciano Caramel, Bruno Corà, Enrico Crispolti, Fabrizio D'Amico, Mario Luzi, Lara Vinca Masini, Fernando Miglietta, Bruno Munari, Antonio Paolucci, Pierre Restany, Carmelo Strano, Claudio Strinati, Tommaso Trini Cesar Vivaldi.
He publishedunifyinghis art with the poems by numerouspoets, suchasAdonis, Alberto Bevilacqua, Giuseppe Conte, Maurizio Cucchi, Milo De Angelis, Tonino Guerra, Emilio Isgrò, Vivian Lamarque, Mario Luzi, Giancarlo Majorino, Alda Merini, Maria Luisa Spaziani, Andrea Zanzotto.