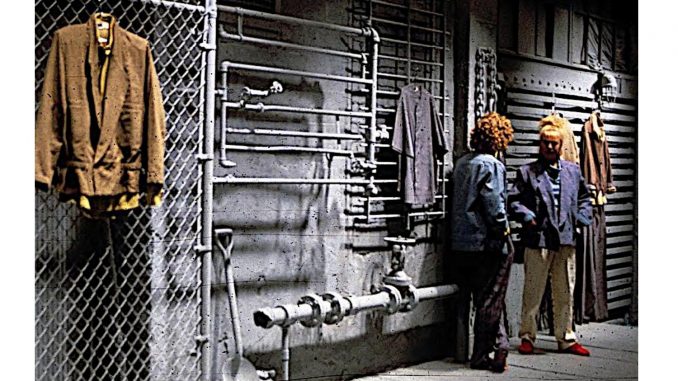 Will Smith died in April 1987, at 39 years. He was a pioneer in street fashion, since the 1970s. His brand, Williwear Limited, was founded in 1976. A very successiful streetwear in tune with the hip hop climate. Various but simple materials, also rustic, unprocessed, and put together as a collage.
Their heterogeneity and their design development were in harmony with the ideological positions widely practiced by the designer.
Thus, this heterogeneity colluded with the principle of ethnic diversity. Mixing, and not uniformity, was the bases of his action. Even in his relationship life. He associated with artists, architects, performers, and actors. The creative figures were his favourites. From this, he associated with the likes of Keith Haring or the Christo-Jean Claude duo with which he collaborated for the Wrapping of Pont Neuf, in Paris (1985). And, not to be missed was the unique and brilliant avant-garde character, James Wines: architect, designer, urban planner, artist, thinker, forerunner of deconstructivism.
But it must be specified that his expressive sign and his formal research are in symbiosis with the first hour's commitment to sustainability and Green Architecture, which is also the title of his monographic publication of 2000, Taschen Editions. The two became friends, and Wines with his SITE group created a 360° design for the stores. He was passionate about the work of his youngest friend, being already well engaged in environmental issues to which the designer was very sensitive.
Willi's success was great, with its birth-right in street couture. It also made it an opportunity for an aesthetic principle in opposition to the Haut Couture. It seems to approach, perhaps by a smear, the principle of indifference's beauty by Marcel Duchamp. Also, because his artistic-aesthetic proposal has a sociological foundation. As if to say: 'The idea or ideology above all; and he courageously states: 'The more commercial I become, the more creative I can be, because I'm reaching more people'.
Success, agreed, but as Wines points out 'Not the recognition that he deserved'. And the memory of walking together takes its toll – in this period, on the occasion of the exhibition aimed at celebrating that singular character: 'We'd be walking along and he'd say "Oh, my God, that person is wearing my jacket."'
The celebratory exhibition, like all those of this dark and heavy time worldwide, just opened, but it was immediately closed due to the coronavirus. The expected duration is until 25 October. Hopefully, it will reopen. The initiative was realized in New York at the Cooper Hewitt, Smithsonian Design Museum and curated by Alexandra Cunningham Cameron, while the installation design is signed by James Wines and SITE group + Sam Chermayeff Office.
It would have been incomplete without the materials from SITE, like those related to projects carried out in the 1980s for Willi's showrooms which. They included, in addition to warehouses, the offices and special events. All insisting on monochrome materials in the facade, variously functional objects and street artifacts. A rigorous and flexible set-up, in relation to the heterogeneity of WIlli's products. About fifteen videos, and many drawings by Wines with his original design and highly representative quality.