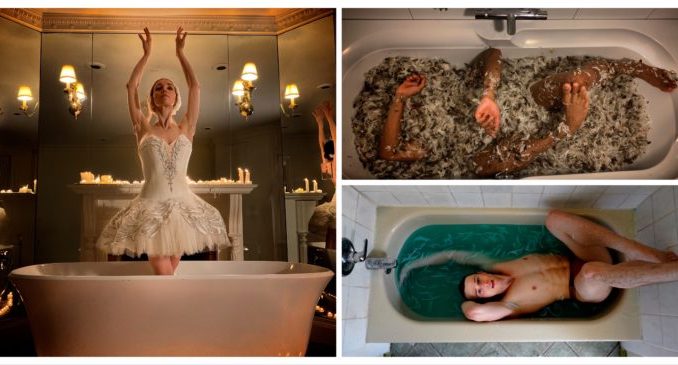 Swan Lake by Corey Baker
The swans out of the water are clumsy and the dancers outside the theaters are also uncomfortable. During the pandemic many dancing swans have colonized the web.
One of the best Swan Lake, rigorously remotely, is undoubtedly the edition that in over 3 minutes tells the tragic story of the impossible love of a young romantic nobleman for a haunted girl. The stage consists of a certain number of bathrooms where 27 dancers belong to important companies from around the world. It is a commission by the Arts Council and the BBC.
Swan Lake by Corey Baker is this very special Swan Lake Bath Ballet. The New Zealander choreographer created a synthetic choreography full of sentiment, not without a touch of irony, and played with some essential elements, such as the evocation of Odile in an intimately mysterious context; the melancholic prince covered with falling feathers in gray-colored waters; swans floating in turquoise waters at the bottom of the home pools.
Many muscular males simulate the sinuosity of the feather necks with their arms; many human legs stretched upward or bend in the angled thrusts of the frog swimming, dry on the house tiles. The story advances in quite a dramatic crescendo, between splashes of hair thrown in the wind, small dips in colored liquids like a symbolic rainbow. There are also in the garden outdoor pools for bathing and underwater swimming.
16 dance-body swans, each in its own tub, fold over themselves, and announce the climax and the emergence of the white swan in tutu and chalet. Then the white swan which disappears in the "waves" and the feathers of its domestic tub, likely in the tragic classic ending. In a décorgotic-glam of candles on the fireplace and around. The illusionistic rhythmic games govern the multiplication of the bodies in action and assembly's good timing. Hence a small masterpiece paid on perfect balance between the serious and the facetious.