Nanda has passed away. She carries with her a fizzy cross-section of the culture of twentieth century's second part and beyond. And perhaps carries with her some additional secrets in spite of the various occasions she held to tell us of fellow-road characters, facts, envy, jealousies, skirmishes, authenticity and fiction. Abut, above all, enthusiasms and impulses, especially as far as art and architecture are concerned. She was very happy to have had the opportunity to tell stories, even about herself, through the decades, in her autobiography which has recently been published by Mimesis under the title "Young and revolutionaries", as a result of a two-year work we made together on it.
A time to recover and fortify an old friendship and strong cultural harmony. It begins with her participation in the patrolling exhibition "The apple of discord" which, with the help of Pierangela Rossi Sala, I curated in Milan, in 1980, about Lombard research artists. A year later, at the Bonaparte gallery in Milan, she was among the artists involved in an ideal homage to Guillaume, the great friend of painters and sculptors, an initiative titled "Apollinaire 1981 / self-analysis-object of artists and poets". Soon after, I curated with pleasure, in the same location, a personal exhibition based on her mirroring, reflection of light, space-work interaction.
Other contacts over the time (exhibitions, conferences, articles, her participation in my "CenaDora", or her contribution, together with Alessandro Mendini, Andrea Branzi, Ugo La Pietra, Bruno Munari, and others, to a group show which was inspired my concept of "Artedesign", Milan, 1994). And then, in recent times, our long, constant, dense, enthusiastic meetings focused on the publication of her autobiography supported the enthusiasm of Allegra Ravizza. Unfortunately, the artist will not see the English edition, even though the book was ready to be published.
In her rich and daring story, the figure of Piero Manzoni is really central,. It was a complex and tearing relationship, intense, profound and impossible, to the point that it dragged her throughout her life. I had the clear impression that she went on cultivating it, as if in her life she wasn't alone; as if the hand that she holds for a long time, on his deathbed, was the yes of a marriage that both wanted and that both knew how much impossible it was.
There was a condition that would have encouraged the birth of a new family. That she put her art aside. Which, no more or less, was as if she had asked him for the analogous condition. Cursed by art, that relationship, even if strongly intertwined with art. Market events aside, in my opinion, Nanda has revolutionized art more than Piero. Full originality, reversing things, in him there is not; in her art this is clear. Of course, Piero's position is much more radical, I would say better a more Dadaistic-Duchampian one. This, at least at the level of his ideas embodied in his Achrome; but how contradictory they are in the field of the creative laboratory.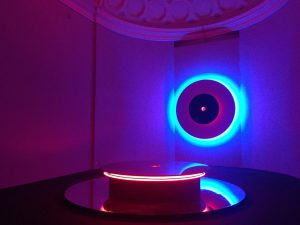 Especially in relation to environmental art – and in any case to a field where art, architecture and design are embryonically inseparable – Nanda has given such a turn to art that lasts for decades and will continue to last, and this without alienating user's enjoyment. Nanda's participation in the climate of zeroing around the Zero group did not destroy the positive sign of her aesthetic codes, similarly to what happened to Yves Klein with his essentialist spiritual monochrome.
I imagine you, Nanda, wandering now, with your thoughts and your moods, followed by your majestic "humanized" African dog, towards a new Catto-Buddhist zeroing of rebirth. Who will you be in your next life?